Whirlpool Freezer Repair Services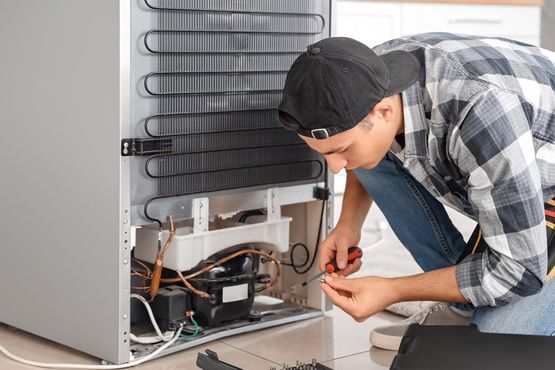 The Whirlpool Corporation is a multinational manufacturer and marketer of home appliances, headquartered in Benton Charter Township, Michigan, United States.
Whirlpool Freezer Troubleshooting and Problems
Whirlpool American fridge freezer not cooling
The most frequent causes for your fridge freezer not cooling are:
Dirty or frozen condenser coils – resulting in an ineffective distribution of heat making the fridge work harder to cool down
Defective condenser fan motor – as the fan motor draws air through the condenser foils if it gets obstructed the blade won't spin freely – and this may need replacing
Evaporator fan motor – if this isn't working cold air won't be circulated to the fridge compartment but the freezer remains cold


Other issues that present Whirlpool American fridge freezer problems include:
A faulty start relay – this can result in the compressor working intermittently or not at all
Non-functioning temperature control thermostat – preventing the refrigerant system from running
Broken temperature control board – if voltage isn't being sent to the compressor and fan motors the cooling system won't work
All of these issues can be easily rectified by an experienced appliance repair technician.
Whirlpool American fridge freezer clicking noises
Whirlpool American style fridge freezer problems can include a clicking noise coming from the appliance. And this is often accompanied by a flashing display of two dashes. These are the most common symptoms of faulty capacitors.
The run capacitor is part of the fridge freezers start relay. It powers up the compressor – this heat turns the capacitor on – and cools down the fridge freezer.
The front control board forms part of the control panel. If this is defective the water supply will be affected and the user board may need to be replaced. Both these components can be tested and repaired or replaced by a professional.
Whirlpool 6th Sense fridge freezer troubleshooting also covers:
Whirlpool fridge freezer ice or water build-up
Whirlpool fridge freezer troubleshooting for ice or water build up points to the defrost drain system. The water collection pan is located directly beneath the evaporator – and leading from the drain hole is a drain tube. If the drain backs up it won't freeze the evaporator and the collection pan will fill and freeze over.
Drain pan heaters prevent the defrost water from re-freezing and blocking the defrost drain hole. When these heaters aren't working properly it has the same effect – a build-up of ice. A qualified repair engineer will be able to determine the source of the fault and repair or replace the relevant faulty components.
Whirlpool Freezer Experts
Calling an expert technicians from Clean Appliances Repair is the smart choice to make. Not only we charge by the job instead of an hourly job, we provide an accurate quote before we begin any work. Our technicians have extensive experience in repairing all brands, including GE, Kenmore, Whirpool, and more! See the complete list of appliance brands we repair down below or read on for additional info. Call us to fix your appliance today.
If you happen to have any error code you should mention it when you call for a technician.