Amana Refrigerator Repair Services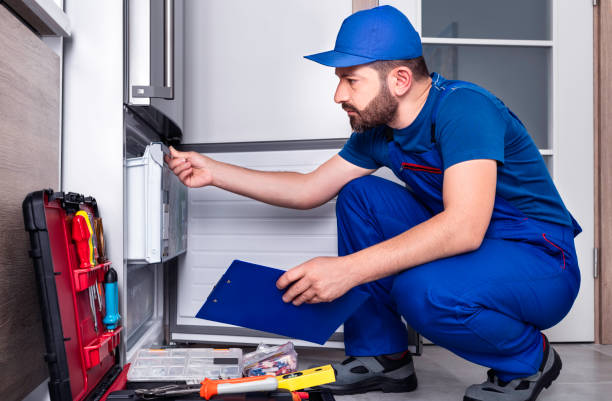 The Amana Corporation is an American brand of household appliances. It was founded in 1934 by George Foerstner as The Electrical Equipment Co. in Middle Amana, Iowa, to manufacture commercial walk-in coolers. The business was later owned by the Amana Society and became known as Amana Refrigeration, Inc.
Amana Refrigerator Troubleshooting and Problems
Buzzing
This will happen if a refrigerator has an ice maker but is not connected to a water supply.
Chattering when dispensing ice
This could mean the water line is kinked. Straighten out the kink, and the noise should stop.
Clicking
This is another noise that can happen if a refrigerator has an ice maker but is not connected to a water supply.
Clicking can also occur when the dual evaporator valve is regulating the cooling operation. It happens as the unit switches from cooling one compartment to the other.
Door alarm
This will sound when the refrigerator or freezer door has been open for five minutes while the cooling is turned on. The alarm will repeat every two minutes until the door is closed.
A dripping sound
This could be caused by water dripping onto the defrost heater during the defrost cycle.
Grinding or squeaking
This could happen if the refrigerator is not level. Use a level on all sides of the refrigerator. Follow specific instructions for leveling from your refrigerator's use and care guide.
Gurgling
You might hear this sound after a cooling cycle as the refrigerant flows through the tubes. You also might hear it when opening and closing the doors as water is equalizing in the drain tube. This happens more during times of high humidity.
Amana Refrigerator Experts
Our technicians have extensive experience in repairing all brand, including Amana, LG, Whirpool, and more! See the complete list of appliance brands we repair or read on for additional info. Call us to fixed your appliance problem.