Whirlpool Refrigerator Repair Services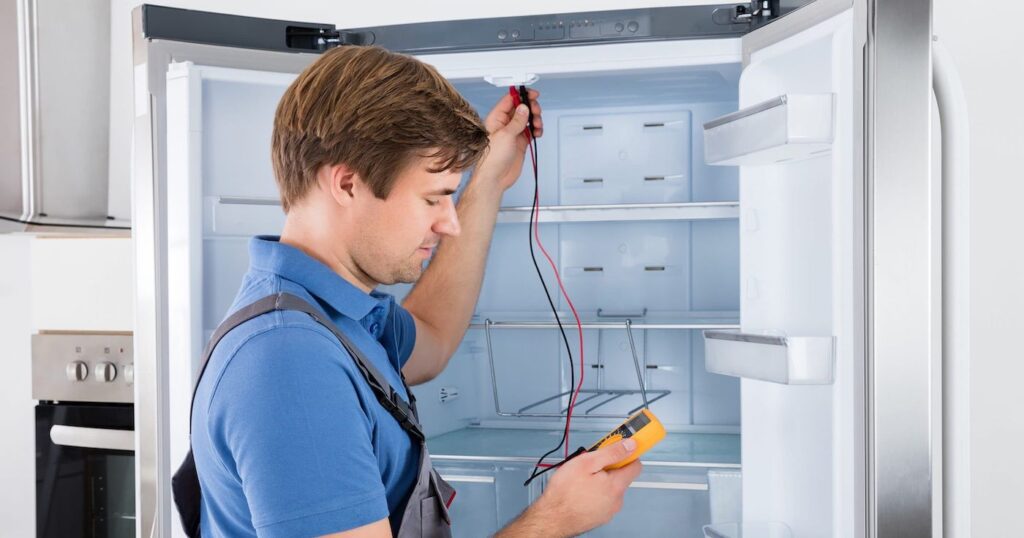 Whirlpool manufactures a wide range of high-quality and functional appliances. Its production is intended for a wide audience and occupies a leading position on the international market. The brand manufactures new lines of affordable units of home appliances and gradually increases volumes of its production The variety of its lineup allows you to choose the equipment and the necessary number of options. Below you will find a table of Whirlpool refrigerator troubleshooting system.
Whirlpool Refrigerator Troubleshooting and Problems
New Whirlpool Fridge Not Cooling
If your Whirlpool refrigerator is newly installed, cooling is not instantaneous; it takes a little while for it to cool completely. Allow 24 hours from the time you connect power to your new fridge and turn on the cooling feature before you put food inside. If you add food before this initial cooling period, it may spoil. Resist the urge to adjust the cool settings lower than the recommended temperature in an effort to reduce the initial cooling period of 24 hours; Whirlpool notes that doing this will not cool your fridge any faster during the initial cooling period.
Recommended Refrigerator Temperature Setting
Whirlpool presets the refrigerator cooling control at the factory to 37 degrees F (0 degrees F for the freezer). And for the most part, these are also the temperatures at which you want to maintain your fridge's settings.
But if you do need to adjust the temperature to a cooler setting, do this by setting the control only 1 degree F lower at a time. After lowering by 1 degree F, wait 24 hours to see if this incremental change sufficiently cools your food. If not, lower it by 1 more degree F and wait another 24 hours, repeating this procedure if necessary.
Dirty Condenser Coil
A common solution for your fridge and freezer not cooling requires a little housekeeping. As refrigerant moves through a fridge's condenser coil, the coil removes excess heat, which maintains the efficiency of the coil as it keeps your refrigerator cool. But because this coil typically is located at the bottom of a refrigerator, it can become clogged with dirt, dust and pet hair. If the coil becomes clogged with this debris, it loses its ability to remove excess heat and the refrigerator has to work harder just to keep food cool.
Before you attempt to clean your refrigerator's condenser coil, unplug your fridge or turn off the circuit breaker that supplies power to it. Consult your user manual for the exact location of the condenser coil and the removal steps for the metal grille or kick plate that covers the coil. Generally, you'll remove this grille by pushing down on it and snapping it off or by removing screws that hold it in place.
With the grille removed to expose the condenser coil and your fridge unplugged, use the hose end of a vacuum cleaner to suction all the debris from the coil. Replace the grille, restore power to your fridge and wait 24 hours before checking to see if the food inside is cool.
Whirlpool Refrigerator Experts
Our technicians have extensive experience in repairing all brand, including Whirpool, Samsung, LG, and more! See the complete list of appliance brands we repair or read on for additional info. Call us to fixed your appliance problem.