Roper Washer Repair Services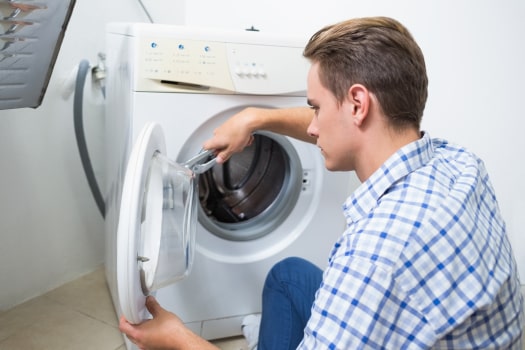 The appliance company began as the Upton Machine Co., named after the founders Louis Upton and Emory Upton. … Roper appliances are made in the same factories as Whirlpool appliances which include Clyde, Ohio for washers, Marion, Ohio for dryers, and Findlay, Ohio for dishwashers
Roper Washer Troubleshooting and Problems
Washer Doesn't Spin
If your Roper washer works fine except for not spinning, try setting the timer to manual. If it spins, it means the timer is bad and must be replaced. If it doesn't spin, the lid switch is bad. You can verify this by removing the lid switch and connecting the wires together. The washer should start to spin.
Washer Fills, Then Stops
When your Roper washer fills and stops, the problem is the lid switch–the washer doesn't know that the lid is closed. Verify by removing the lid switch and connecting the two wires with a wire nut. The washer should operate normally.
Water Keeps Running or Draining
If your Roper washer seems stuck on a cycle, check that the top of the drain hose is higher than the water level in the washer. If it's not, the washer won't operate properly. Do not seal the drain hose because it needs air for water to drain properly. If the water still keeps running, you have a broken water inlet valve assembly which will need replacing. Contact your service technician.
General Troubleshooting
If your washer leaks, check that fill hoses are tight and not kinked. Next, check that the washer is level and that the drain is not clogged. When you have problems starting the washer, check that the circuit breaker hasn't tripped and that the timer is properly set, then pull the knob to start. If nothing happens, make sure the water is turned on. If it is on, turn it off and remove the hoses to check the inlet valves for debris blocking the water flow. Remove any foreign matter and reconnect the hoses.
Calling an expert technicians from Clean Appliances Repair is the smart choice to make. Not only we charge by the job instead of an hourly job, we provide an accurate quote before we begin any work. Our technicians have extensive experience in repairing all brands, including GE, Kenmore, Whirpool, and more! See the complete list of appliance brands we repair down below or read on for additional info. Call us to fix your appliance today.